REDEMPTION GAME CONTROLLERS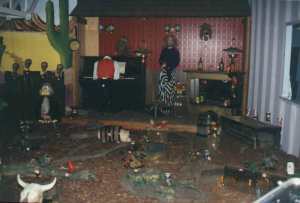 Sunrise designed and built a new control system for several animated Shooting Galleries under contract to Leisure & Allied Industries. The new system updated the existing games by adding score displays, multi-coin acceptors, and a ticket dispenser to each player station. The magnetic tape sound unit was replaced with our digital sound boards.

The control system has been further developed to make it suitable for newly built shooting galleries or for retro-fitting.
Note: Controllers of this type are available to special order - contact us with your requirements.
Info on some existing ticket control and redemption PCBs
---
---